Welcome home to Store Ringheim hotell & restaurant, your place for a good experience. Store Ringheim is a small boutique hotel with 15 unique and comfortable rooms situated in "Gardshuset", the old farm house and "Reiskapshuset" the old tool shed. We are proud members of "De Historiske Hotell- og Spisesteder" and Historic Hotels of Europe.
The hotel rooms in our boutique hotel are comfortable, spacious and nicely restored. They are of different sizes and all rooms have modern tiled bathrooms with showers. Here are everything you need for a good overnight stay. We have a wireless network in all our buildings.
Breakfast is included in accommodation in our boutique hotel.
Check in from 4 pm to 8 pm. Check out by 12 noon.
GARDSHUSET with 6 historic hotel rooms


In a seemingly gray and old farmhouse we have 6 unique hotel rooms. In this old farmhouse from 1860, the timber walls is visible and since we consider it to be far too unpersonal to have numbers on the doors - we gave them names reflecting the previous use of the rooms.
Sound is always an issue in old timber houses. We have made a great effort to soundproof as much as possible and the rooms are reasonably sound proof. So there is not much listening in the house when it comes to voices, but it can be a little listening when it comes to footsteps.
"Eldhuset" is our most special room and siuated in the oldes part of the house from the 17ht century. This historic room is an open-hearth house with smoky walls, ornamental painted bed and a slate fire place – very romantic and Norwegian.
In Gardshuset we have 1 room with poster bed, 2 double junior suites, 2 double superior rooms and a 4-bed room in the attic. There is no lift in the building.
Do you need transport from Voss station?
We can collect and deliver with our shuttlebus by agreement (must be notify when booking).
REISKAPSHUSET with 9 modern hotel rooms


Reiskapshuset, orginally the old tool shed from the 1980s, was refurbished as a hotel  in the winter of 2017. Here we have 9 modern hotel rooms in a good size, all interiors in the same style as the rest of the hotel. In Reiskapshuset we have mangage to make it more sound proof than in Gardshuset, and we recommend rooms here if you want it very quiet.
With us, you should feel at home, that's why the rooms in Reiskapshuset have all been named after the mountains around us here in Voss. In Reiskapshuset we have 6 double superior rooms and 3 double rooms - all with views over different parts of the surronding farm landscape and distant montains. There is no lift in the building.
Do you need transport from Voss station? We collect and deliver by agreement (notify when booking).


At Store Ringheim we are concerned about the environment - and encourage our guests to use the most environmentally friendly transport possible for your travel to us. If you come to Voss by train, we pick you up with our hotel bus (let us know when booking). From Voss Station in the city center, you can travel by bus 964, in the direction of Bavallen. The bus stop at the intersection of Mølstervegen, then it is 5 min to walk to the farm. It is also possible to walk, it's about 25 minutes walk from the Voss centre. If you come by car or motorcycle, we have a large guest car park at the top of the yard. Here you park for free while visiting us as a guest.




As a supplement to our 15 hotel rooms, we now have 5 apartments for rent for both short and longer stays. Villa Solberg is located in the center of Voss, approximately 5 minutes by car from Store Ringheim hotel & restaurant. Villa Hjadlane is located just below the fields of Store Ringheim.
See the map image for an overview and the location of our 2 apartment houses.
All bookings for accommodation, both hotel and apartments, are now combined in one common booking system.
Check-in, keys and check-out in the reception at Store Ringheim hotel & restaurant. 
Check-in from 4 pm to 8 pm. Check-out by 12 noon.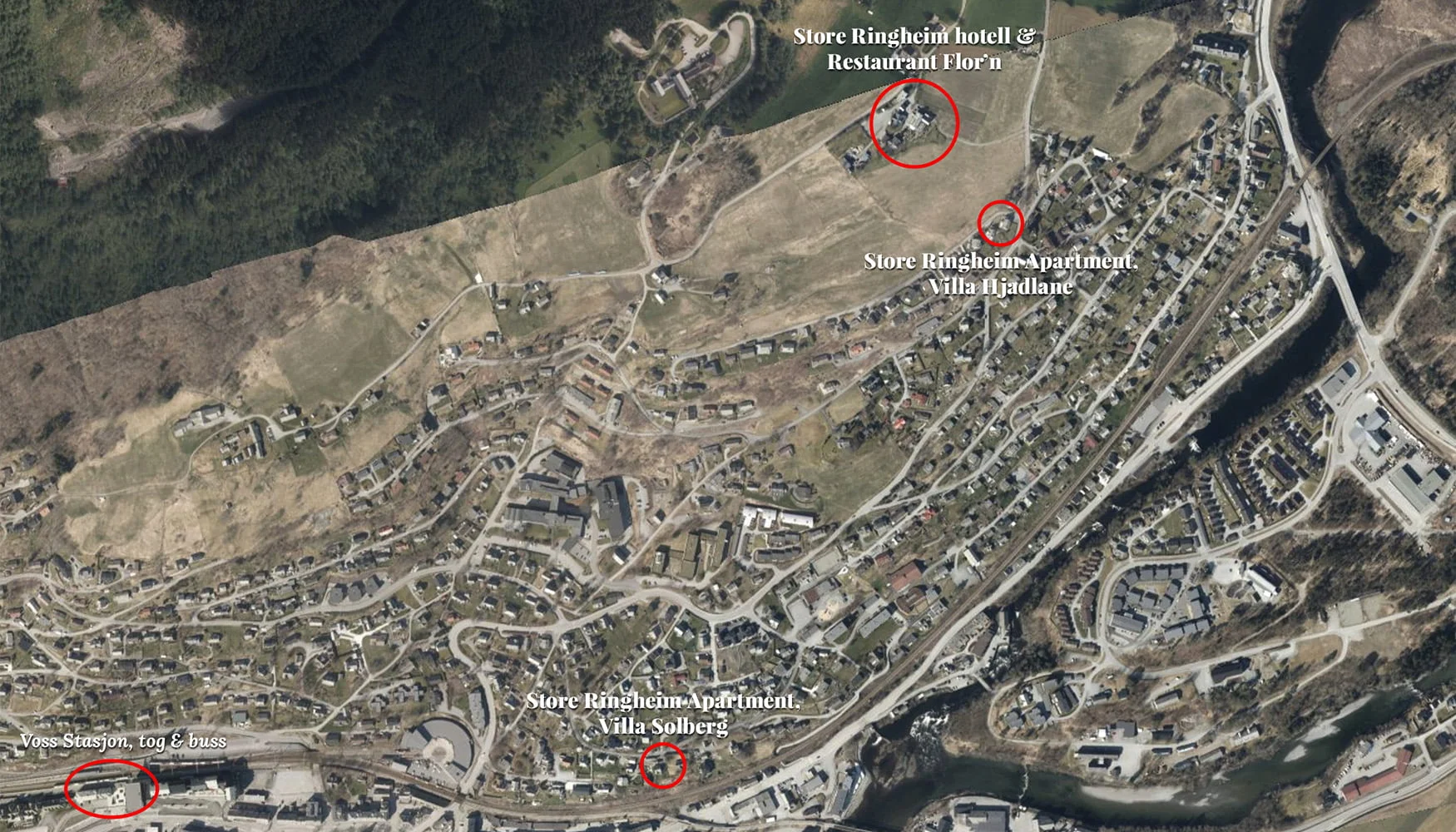 VILLA HJADLANE with 2 apartments


In mid-June 2023, our last addition to Store Ringheim Apartment, Villa Hjadlane, was finally ready for rent. The 2 newly renovated apartments are on the 1st and 2nd floor of the house.
The apartment on the 1st floor is slightly larger than the one on the 2nd floor. They both have 2 bedreooms and everything you need for a pleasant stay. Please note that the apartment on the 2nd floos had bedroom number two outside in the stairwell. More photos of the apartments will be available soon.
Villa Hjadlane has the address Hjellane 2, Voss, and is located just below the fields of Store Ringheim hotel & restaurant.
The apartments have self-catering with an option of buying breakfast at the hotel. Check-in and keys at the reception at Store Ringheim hotel.
NB. Parts of Villa Hjadlane are still under renovation. There may therefor be building materials around and some noise during the time when the craftsmen work at the house. 
VILLA SOLBERG with 3 apartments


In Villa Solberg we have 43 newly renovated apartments for rent through Store Ringheim Apartment.
Villa Solberg is centrally located in Lundarvegen 15B, with a great view over Vossevangen and Gråsida. From the house it is only 5 minutes to walk down to the town square, about 20 minutes walk up to Store Ringheim hotel & Restaurant Flor'n - and it's only 5 minutes by car.
The apartments in Villa Solberg are rented as self-catering. Check-in and keys at the reception at Store Ringheim hotel.